Bernadette Khalil, from Lebanon to Quebec city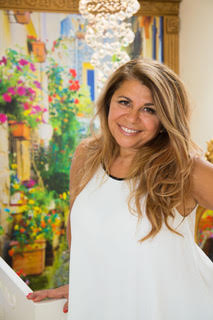 Today, I am mainly a service provider in therapeutic care. However, the foundation of my journey and career path has been Oriental Dancing. As far as I can remember, I have been entrenched by dancing as practiced in my country of origin, Lebanon. By the age of 10, I was teaching Oriental Dancing to my friends. Unfortunately, the war came and I had to stop my dancing classes. At that moment, I felt a profound sense of emptiness because I had no one to share my passion with.
When I was 16 years old, my parents immigrated to Canada in order to be able to live under the blessing of peace. I immediately started to give private Oriental Dancing lessons. Around the same time, I joined a Lebanese Folklore troupe in Quebec City. The troupe organised a Lebanese show and for the first time in my life, I performed solo in front of 5000 people. What a wonderful experience!
That particular opening gave me, at the age of 18, what I needed to establish my own Oriental Dancing troupe called Phenicia. Profits made with the various shows were converted to donations for Lebanon or Lebanese activities in Quebec City. This was the very beginning of a Foundation which I created a few years later in order to help the families of the Lebanese war.
When I turned 20, I started giving Oriental Dancing lessons to groups. Classes were held at Loisirs Charlesbourg, Centre psycho Corporel Marguerite Bourgeoys and Loisirs de Sainte Foy. I also taught at Collège Jésus Marie. Over the years, I have had the pleasure of holding numerous dance workshops and live performances in the province of Quebec, among others at Festival d'Été de Québec, and in the United States. Since the age of 29, I have stopped performing and found a deeper calling in teaching Oriental Dancing.
Afterwards, I developed a technique called Ikaa, which is a meditation through movement. Ikaa means harmony. In the 90s, I developed a therapeutic care expertise. By combining different approaches and by creating my own technique, I succeeded (Thank God!) in improving the physical and inner life of those who came to me.
I am filled with a sense of gratitude to Quebeckers not only for welcoming me, but for their openness to my dance and my therapeutic cares. I am honored that my students accepted a dance that was not theirs and I feel privileged to have the opportunity to share my love of my country. I applaud their generosity as well as their openness of heart. My teachings are my way of giving back.
My training in therapeutic care
My interventions as a therapeutic care giver represent the extension of my passion for Oriental Dancing. The two disciplines work towards the wellbeing of the person, giving benefits to the body as much as to the inner-life.
By the end of the 80s, I gave therapeutic massages to my customers. The results were beyond my hopes and the people that were consulting me! To a point where I needed to understand what was going on. I went myself to consult a massage therapist. However, I couldn't really feel the same benefits and well being state that my customers were telling me. I can hardly explain, but there was a special energy in the therapeutic massages as I did it. People told me they were happier, more patient and more fulfilled. Their feedback made me realize the gift, we'll call it that way, that was inside of me.
In the beginning of the 90s, I wanted to know more and I undertook the Reiki trainings with the Reiki master Denise Limoges. I received Carolyne Cooper University's training, Simply Healing, and an extensive training on Chelason Therapeutic Touch. Therefor, I could offer therapeutic care to my customers. The results still amazed me, but the most important to me were the improvements that my care gave to my customers. The testimonies I received were everything.
At the beginning of the present decade, I was interested by Dr Dain Heer and Gary Douglas work. I learned about the Foundation +, Level 1 and Access body processors techniques. I am still in a continuous training with them to improve my practice. I also trained in Release technique which is based on Lester Levenson's work. Thereafter, I specialised in Reiki with the master Owen Coleman, completing with success the three levels of Pure Reiki Healing Master.
Always looking to my own refinement, I pursued my learnings in therapeutic cares with the japanese master Kenji Kumara. He taught me meditation and allowed me to improve my use of the Therapeutic touch. And then, I discovered Access the Bars, an approach developed by Gary Douglas. The five trainings I attended allowed me to practice this amazing technique and also to teach it. And finally, I studied the EFT technique (Emotionnal freedom technique) where I completed three levels with the therapist and teacher Anita Casalina.
Beyond those different approaches, I developed my own technique that I baptised Bekaa. This word is a reference to my name, but also it's the name of town of Lebanon that is a city of wealth. Bekaa is a wealthy treatment imbued with prosperity energy. It awakens the DNA that hasn't been used, the asleep part. It's a form of therapeutic touch and the interventions are mostly practiced around the face, the head and the 21 chakras of the body. The people that consult me and know my different approaches often ask me to intervene with my Bekaa technique. They say they are inwardly calmer, more confident, they sleep better and notice an easing of body pain.
In the end, my customers testimonies allow me to see that my practice gives efficiency. They tell me that the results of my work in therapeutic care are positive to such an extent that they regain a fulfilled and healthy life in a short time.
From the bottom of my heart, thank you, choukrane, bless you,